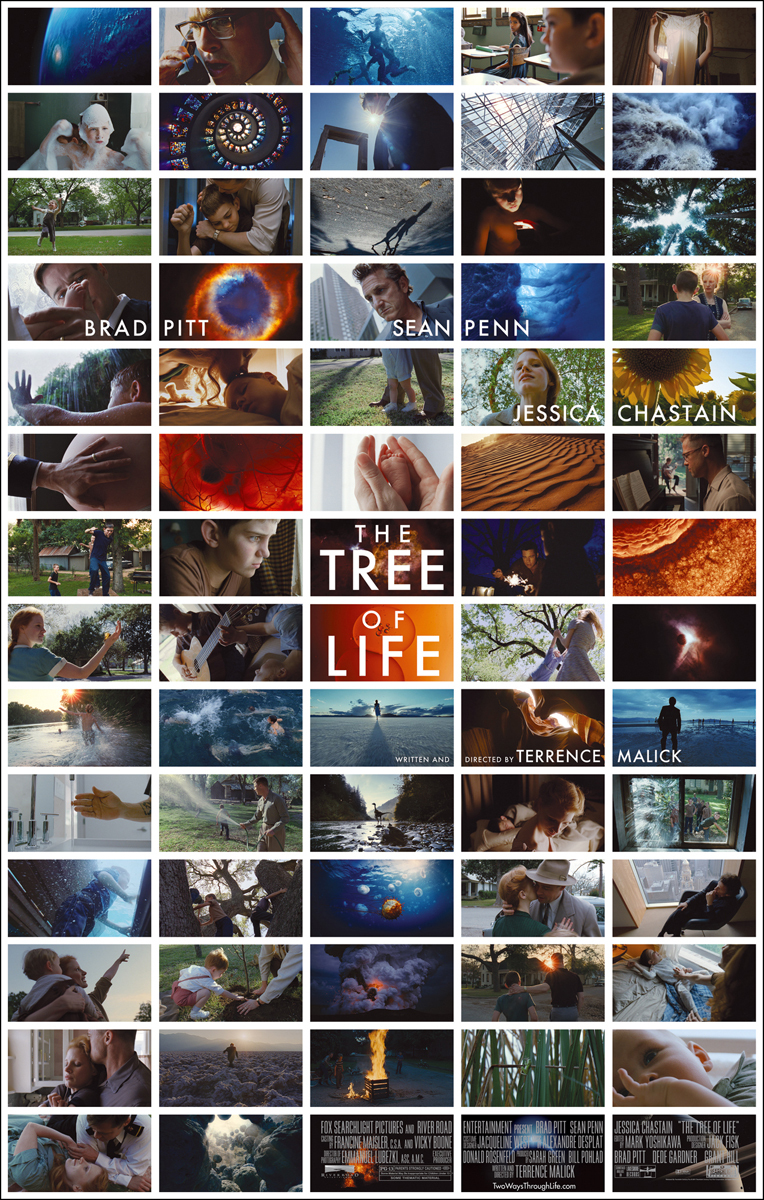 I write this at the risk of revealing too much about the film to you, but I will do my best at not ruining the film for you in this review. I saw this film in Champaign at a fantastic little single-screen theatre (The Art) and came in with above-high expectations, something that always unnerves me, because I run the risk of being let down by a good film because of over-the-top expectations. This did not happen. My expectations were met and then some.
Terrance Malick is a very interesting director, with only five films in four decades, a new Malick is a pretty exciting deal to those paying attention. His previous films include Badlands (which inspired the Springsteen song Nebraska), Days of Heaven (1978), The Thin Red Line (1999) and The New World (2005) and are all critically esteemed and have given Malick quite a reputation in the film world.
The Tree of Life has been surrounded by a lot of hype, including the Palm d'Or, so I go in expecting Palm d'Or quality. And in my humble opinion, that is what I got.
Before I saw it, I was told that it was "a small town coming of age story… with dinosaurs". But before you get Land Before Time images in your head, know that it isn't forced or silly, but beautiful and haunting. The plot isn't always completely clear, not every lead is followed and sometimes there are parts that don't fit the narrative. But those parts tell just as much of the story as the dialogue (I won't give away more than that). But you have to let the movie take you where it wants to take you to experience The Tree of Life fully.
Be warned, despite the stars, The Tree of Life is not your typical Brad Pitt/Sean Penn film. The film may make some uncomfortable, because it doesn't fulfill many movie-goers expectations of conflict-climax-resolution and dabbles in some serious spiritual issues many (religious community included) don't like to think about much. For those familiar with Art House cinema, expressionism, surrealism and impressionistic cinema, it's a treat and can run with the big boys (Think Tarkovsky and late Kurosawa) and for those new to this sort of thing, it's not purposefully inaccessible in the least.
The cinematography is token Malick, with the help of Mexican cinematographer Emmanuel Lubeski doing his sophomore Malick film (the first Malick-Lubeski film was The New World, as well as doing an outstanding job on Children of Men a few years back, you might remember the 13 minute straight unedited shot, yeah, that was Lubeski) the film looks astounding. Some of the shots are shots I have ever seen anything even in close to similar to, especially in the area of tracking and camera movement. 
Personally, the film struck many, many chords, leaving me deeply impacted. Since I saw it, I haven't thought about much else, it really has confronted me and hit me hard, really hard. I need to see it again. And again. Malick has made a masterpiece, look for The Tree of Life to be one of, if not, the classic film of our generation. Bold, I know, but I've got to call 'em like I see 'em. If it's playing anywhere near you, go see The Tree of Life.
Rating | 10/10