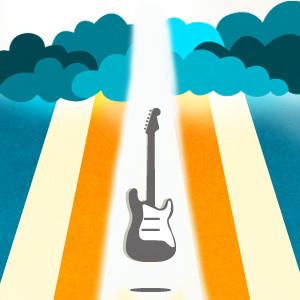 If you checked Paste Magazine's homepage today you probably had the graphic above staring you in the face. I was instantly interested and the article is right down my alley. This is a fantastic piece written by a Christian for a wide audience, and the fantastic thing that is done in the article is build bridges between the artistic community and faith community, exemplified in Sufjan Stevens brilliant, brilliant quote |
"If you are an artist of faith, then you have the responsibility to manage the principles of your faith wisely lest they be reduced to stereotype, which is patronizing to the church and to the world, and, perhaps, to God." 
This article is a MUST READ for anyone looking to understand the relationship Christians and the arts community can have, whether you are a Christian, part of the arts community or in just one. Personally, this is a hopeful publication because it shows two worlds that I love (but usually don't love each other) bridging a gap that, at times, looks unbridgeable. 
Read the entire article here or go to Paste.com
written by: Shane Ryan

Athiests have all the power

On its face, I realize that statement seems bizarre. We're living in a religious world, and America is a religious country. Depending on the poll of the moment, anywhere from 80 to 95 percent of our citizens believe in God, and well over half belong to some kind of organized faith. A 2008 Washington Post article on the subject even included this odd little tidbit:

The study detailed Americans' deep and broad religiosity, finding that 92 percent believe in God or a universal spirit—including one in five of those who call themselves atheists.

When even the atheists are believers, you know religion is thriving.

But America is a fractured place. The worshippers at a South Georgia revival are not the same as the Catholics taking weekly communion in New England, or the evangelicals in their Kansas mega churches, and none of them walk the same spiritual ground as that shifting subset of young Americans who live in large towns and cities.

It's this last group I'm most concerned with, and in dealing with them (read: us) it's tempting to paint with a broad brush. What I know from cursory research is that atheism is most prevalent in young, urban environments (and especially in social democracies—Western European nations have a higher prevalence of atheism than any spot on earth) and you could even argue that a credible atheistic movement is emerging. Here in North Carolina, for instance, a group called the Triangle Freethought Society advocates for 'nontheists' by erecting billboards with messages like, "I'm saved…from religion!" and "Iwrite fiction…I don't believe it."

And what I know from experience is that despite the overwhelming national inclination to spirituality, atheism operates from a position of strength among young urbanites. Two tenets make it so.

1 - Nobody can prove the existence of God. All belief systems to date have been invented by humans. The fact that you also can't disprove the existence of God is less compelling, since there are a lot of theories that are impossible to discredit (try proving, for instance, that a dishwasher can't be depressed). Atheists, who are by their nature questioning, have successfully shifted the burden of proof onto those who maintain their belief.

2 - There's a perfectly good God-free explanation for how the world developed and how we came to be here.

It's a pretty irrefutable stance. So when one of our kind believes in God, as I do, it's notable. My friends have been astonished and annoyed at my faith. If I'm otherwise smart and rational, why this deviation? Why this vague belief in a higher power that can never be seen or touched?

My lame answer—that it's something I feel intuitively—is even more annoying. It's tantamount to saying I have an ego complex; that I experience life on some higher plane, privy to visions lesser souls can never know. My irrational belief also becomes a frustrating and tacit stamp of approval for the larger (and to many atheists, harmful) religious network that ultimately controls the discourse. Frankly, I'd be bothered too. Who do I think I am?

But really, this conflict is a blip on my radar. I feel no need to spread the good news, and I'm content to concede that yes, my argument is logic-free. Finally, I have no misconceptions about my own limited importance.

But what about an artist? What about a good artist? And forget about Christian rock, or Hare Krishna music, or anything else designed for the overtly religious. What about the musicians and filmmakers and writers who market their music to an audience predominantly opposed to theism? What happens when, against reason and against the grain, they actually believe in God?

How do you reconcile the faith with the product?

Sufjan Stevens was born into a spiritual sect called "Subud," the U.S. website of which promotes a "way to renew contact with the power of God…that occurs without effort or study." Its closest relative seems to be Islam, and the name Sufjan is a Persian word meaning, "comes with a sword." Stevens described his parents in an interview as "kind of trial-and-error when it came to religion."

From that beginning, Stevens became a Christian, a faith to which he still adheres and which, to a significant degree, informs his music. National recognition came with the release of his third album, Michigan, a gorgeous indie-folk tribute to his home state. In 2005, he made Illinois, a universally acclaimed work that topped Billboard's Heatseeker chart. But it was the album sandwiched between those two, Seven Swans, that contained his most overt religious themes to date. With banjo-based songs like "Abraham" and "He Woke Me Up Again" and "The Transfiguration," the translucent scrim separating God from music in Michigan had lifted.

Still, he was careful to avoid the sin of preaching. Or at least it felt that way to critics and fans, who in the shadows of their praise registered only token offense at the theological overtones.

So how did he do it? Why wasn't he derailed by the usual cynicism?

In "All the Trees of the Field Will Clap Their Hands," a reference to the Book of Isaiah, it's worthwhile to notice Stevens' lyrical dichotomy—the anticipation of great joy, and the anxiety of belief:

I heard from the trees a great parade
And I heard from the hills a band was made
Will I be invited to the sound?
Will I be a part of what you've made?
And I am throwing all my thoughts away
And I'm destroying every bet I've made
And I am joining all my thoughts to you
And I'm preparing every part for you

Here, we can start to decipher the secret, and understand why Stevens can write about God without alienating the atheistic listener: he eschews the pitfall of certainty.

Mixed in with the promise of God's redemption is the knowledge that its attainment is based on a loose system whose foundation must always be imagined rather than felt. The possibility of being wrong, about everything, lingers. And while the religious allusion can't be denied, the theme is treated poetically. It's not held at safe a distance, necessarily, but it's never looked directly in the eye. As such, it never becomes tacky or maudlin in the mode of Christian rock.

To have an artistic impact, in other words, God must be approached obliquely.

That will come as no surprise to many believers, specifically because it's how God is experienced on an individual level. While a church can provide the sustenance of community, the imagined encounter with God is momentary, mysterious and easily doubted the moment it's gone.

Sufjan understands this. He knows he can't promise anything, or the whole enterprise will ring false. The reason cults seem so ridiculous to the uninitiated, beyond the pomp, is that they advertise an escape. To most of us, the notion of escape is beyond absurd; it's counterintuitive. Life is designed for struggle, and there's no dodging it. You can teach yourself an incantation, but you can't talk your way through the pain.

By incorporating reality into the religious message, Stevens proves that at the very least, he's not a liar. His private realm of God lies in the brief diversion from pain, not the outright escape. At every turn, the music reflects an elliptical, fleeting experience. Never is this more apparent than in "Casimir Pulaski Day," a devastating story told in a half-whisper about a friend who died young. The song's opening guides us through the rituals of religion, and the more pedestrian idea of God as a purveyor of miracles:

Tuesday night at the Bible study
We lift our hands and pray over your body
But nothing ever happens

Of course it doesn't. God can't be the punchline in a simpleton's story. He appears only once in the song, at almost the exact moment of the girl's death.

In the morning when you finally go
And the nurse runs in with her head hung low
And the cardinal hits the window
…
All the glory that the Lord has made
And the complications when I see His face
In the morning in the window

What can that mean? If God took the form of a cardinal in the window rather than saving the friend's life or explaining why the friend had to die, what are the implications? Is there a message at all? More importantly, is there a purpose?

If Stevens had tried to answer that question, he would have lost his audience. Instead, he merely relates the experience and surrounds it in two words: glory and complications. His job is to present the mystery, not define it.

Stevens' public comments about religion mirror the music. When the AV Club asked him about his Christianity, he demurred. "Maybe it really shouldn't be a part of public discussion," he said, "because, you know, it really is about personal relationships." To Adequacy.net, in 2006, he acknowledged the influence: "On a certain level you cannot separate art from faith, because it is our persuasions which drive us to create."

But later in that interview, he articulated what amounts to a mission statement on the delicate confluence of God and art. "If you are an artist of faith," he said, "then you have the responsibility to manage the principles of your faith wisely lest they be reduced to stereotype, which is patronizing to the church and to the world, and, perhaps, to God."

In some sense, he's having it both ways, and the legerdemain works because he's mastered the approach. There aren't many artists like Stevens, who both believe in God and use His presence to strong effect. Stuart Murdoch, the lead singer of Belle & Sebastian, is one of the few.

There are vast differences between the two. Where Stevens is mostly serious, Murdoch is playful and rarely goes a full song without using humor. Where Stevens is folky and orchestral, Murdoch is pop. But both men are Christians, and their lyrical incorporation of God follows the same pattern.

Murdoch loves to write about troubled teenage girls, especially if they've had lesbian experiences, and especially if they're searching for God. In "If You're Feeling Sinister," he advises one such character:

Oh, if you are feeling sinister
Go off and see a minister
He'll try in vain to take away the pain
Of being a hopeless unbeliever

And again in "Act of the Apostle II," when a girl in crisis can't find solace in the usual places:

The city was losing its appeal
God was asleep
He was back in her village, in the fields

Oh, if I could make sense of it all!
I wish that I could sing
I'd stay in a melody
I would float along in my everlasting song
What would I do to believe?

As with Stevens, God is there, and so is doubt, and so is pain. And so is the ephemeral quality of the religious experience, which is given its clearest expression in 2010's wonderful "The Ghost of Rockschool."

I've seen God in the sun
I've seen God in the street
God before bed and the promise of sleep
God in my dreams
And the free ride of grace
But it all disappears and then I wake up

There He is again, the same staggering, vanishing entity we can never hold.

Wes Anderson has been a favorite director for years. The combination of humor and pathos in his films seems to me like an unbelievable tightrope walk, a singular act of genius. How can he make you laugh and cry at virtually the same time?

The most beautiful moments in his films always come with an act of confession. InRushmore, there was Max Fischer and Herman Blume discussing a mutual love. "She was my Rushmore, Max," says the older man. "I know," Max replies. "She was mine, too." Or Chas Tenenbaum's simple, gut-wrenching admission in The Royal Tenenbaums, when a lifetime of nervous composure disintegrates: "I've had a rough year, Dad."

From the themes of forgiveness in Anderson's films, and from the indirect arrival of the emotional peaks, I thought could identify a believer. The presence of God was almost tangible behind the stories, and that 'almost' was the best clue. But I didn't know for sure.

Then, a few years after his 2004 film The Life Aquatic came out on DVD, I finally watched one of the extras. It was a silly spoof of an interview show, with a real Italian film critic named Antonio Monda questioning Anderson and his co-writer, Noah Baumbach. Some of the content was absurd, but there were moments of sincerity. One of the latter came when Monda asked if they believed in God.

Baumbach paused for a moment before saying, very pointedly, "no." He stared Monda down with a hint of defiance and more than a hint of self-satisfaction.

Monda turned to Anderson. "What about you?"

"I think so," he said.

Baumbach registered surprise and disappointment. "Really?"

Anderson, though apologetic, didn't waver. "Yeah, I mean…I mean, roughly."

The answer shouldn't have been surprising. Still, I felt a swell of gratitude—somebody else understood. For Anderson, and Sufjan Stevens, and Stuart Murdoch, "roughly" is the only way to know God. Nothing but the feeling itself, a fugitive gust of wind, will ever be certain.